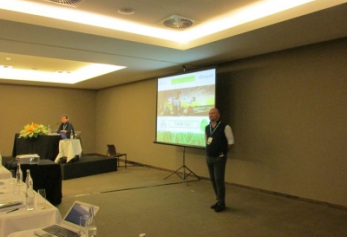 Dr. Filippo Lulli and Dr. Claudia de Bertoldi from Turf Europe, have actively participated in the 5th European Turfgrass Society Conference, 6-7-8 June 2016, in Albufeira, PT.
Filippo, as invited speaker, presented his activities carried out within precision agriculture and applied to sport turfgrasses, with a presentation entitled: Precision farming practices in sports turf management.
Claudia had the opportunity to present the results of a 2-year study on the use of satellite images to monitor the production of sod, with a presentation entitled: Satellite monitoring of turfgrass sod production: image analysis, interpretation and new sod-specific vegetational indices. These two presentations have raised great interest and generated several questions and important new contacts for Turf Europe.

Moreover, on this occasion, Dr. Lulli brilliantly ended his four-years in the Board of Directors, while during elections for the renewal of the Board of Directors of European Turfgrass Society, Dr. de Bertoldi was elected as a new Board member for the next four years.